Subscribe
Planning on Raising Capital? Start by Managing Your Personal Growth
A private company is more than an economic entity. It is an integral part of the founder's individual and family life. All entrepreneurs face the issue of how to manage their business aspirations in harmony with their personal goals.
Question: How important is it for entrepreneurs to set and update personal goals for themselves including for their business, their families, and their lives?
---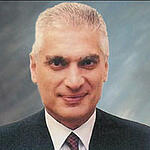 Ferey Faridian
Ferey is a senior strategic investment professional with 25 years of experience spanning management consulting in 12 countries, investment banking and principal investing, as well as serving as CEO/President of high-technology ventures.
"Personal goals are essential. This means having a vision of the future, a definition of success, a strategy to get there, basically a road to travel on and a plan for making the venture fruitful. "
Lynn Lednicky
Lynn has had a diverse career as an executive and advisor. As President and Founder of Lednicky Enterprises, he has provided expert advice to the energy, utility, and infrastructure sectors. His engagements have included M&A support, operational and financial restructuring, renewable energy, project development and financing and advising on production and use of natural gas as a domestic transportation fuel.
"Having a plan for your business that is in balance with your family and life goals is critically important. But it takes an external party/force (like a board or advisor) to make sure this actually happens and that your goals are appropriate and meaningful."
Do's and Don't's About Transactions to Raise Capital
Here's a roadmap drawing on the experience of experts who have helped companies like yours prepare for a successful transaction.
Bill Loughman
Bill was most recently CFO and COO of Avion Systems, a provider of staffing services to the telecommunications and technology sectors in Atlanta. In that role Bill was responsible for staffing, project management, human resources and finance functions, helping the company develop controls and forecasting processes.
"It is very important since this will ultimately determine the entrepreneur's end game. There are various options each with a different strategy, which might include building a legacy business for the family, ESOP for the employees and the sale of the business."
Bob Parkey
Bob has extensive experience serving companies as President, CEO and Board Director. His global business experience includes tenure as President and CEO of ICO, Inc., a $300 million global plastics processing and manufacturing company widely recognized as a leader in creative compounding and milling of resins and engineered materials.
"From personal experience, it is very important for entrepreneurs to set and update personal goals for themselves; to address their business, their families, and their lives. These must be reviewed, scrutinized, harmonized and adjusted on a quarterly, semiannual, and very definitely on an annual review basis to improve the probability of achieving and exceeding your goals."
Mark is a co-founder of Newport Board Group and its Chief Knowledge Officer. He specializes in content management, inbound marketing and thought leadership authoring.
"I don't think anyone should start a business without talking to a personal financial planner. You need to be clear on your objectives for your family and yourself—and your risk tolerance. What is a worst-case scenario? Are you willing to tap personal assets like the equity in your home or your kids' college funds? Once you're committed to owning a company that may take longer to become profitable than you hope and may require more cash than you'd like, it might be too late."

Eran Tagor
Eran has diverse experience in executive management, venture capital, private equity and M&A, including turnaround, restructuring and special situation transactions.
"As an entrepreneur, one is pulled into the business 200%, 24/7. It is very easy to lose work/life/family/health balance. A plan to retain this balance is essential for making the long journey that successful business ownership requires."
How are you handling your personal goals? Share your thoughts with us below, and don't forget to download our free guide "Capital Transactions for Emerging Growth Companies Some Critical Do's and Don't's".